JNP AGRO - SYSTEMS PRIVATE LIMITED. MADRAS/CHENNAI INDIA.

POST HOLE DIGGER





Technical Details and Write Up about the product



It is an implement attached to the tractor operated by tractor PTO to dig holes of different diameters upto a depth of 1 Mtr.

Ideal for planting trees and sapling of mangoes, coconut, banana and Fencing stones, Lamp posts, etc..


Drill dia meter varies from 9",12",18" and 24".


---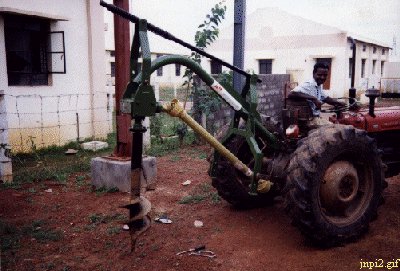 Suitable for all tractors of all makes.



80 holes in one hour under pre marked conditions.



Can be used in wet / dry soil conditions.



Heavy Duty gear box / PTO shaft makes the implement versatile.

---

Back Home
---
PREVIOUS PAGE ¦ NEXT PAGE ¦ HOME ¦
---