Gems Park - Phase II
Nolumbur Main Road,Mogappair, Anna Nagar West Extn.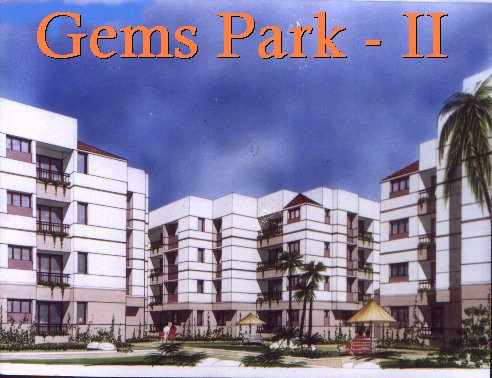 Total Built up Area of 1,05,000 Sq.Ft. is spread over 5 spacious individual blocks. There are 110 apartments of 1, 2 & 3 Bedrooms with areas ranging from 750 Sq.Ft. to 1400 Sq.Ft. The project is designed by reputed architects Chitale & Son. The overall project site and development has been done as per Vastu Shastra. Price is Rs.990 per Sq.Ft. (excluding Registration T.N.E.B. & MMWSSB charges).

The site is located close to Anna Nagar the fastest developing part of Chennai/Madras. The site is 12 K.M. from Central Railway Station and 8 K.M. from Kilpauk Medical College. The Koyambedu wholesale fruits & vegitable market is 2 K.M.There are top quality hospitals in Chennai/Madras Medical Mission and the Sundaram Foundation hospital which are close to the site. The site is opposite Thai Mookambikai Polytechnic and a few hundred metres from M.G.R.Engineering College. Good schools like D.A.V., Spartan, Adarsh, SBOA are located within a radius of 2 K.M. from the site. The site is next to the Tamil Nadu Housing Board Layout. A host of Cinema Theatre complex's are located within walking distance.

R.C.C. framed structure with masonary walls. Cement paint on the walls and Enamel paints for Doors and Windows. Hard core flush doors with beading for main door. Steel frames and grills with glazing for Windows. Silver Grey Mosaic/ Ceramic Tile flooring. Polished Granite kitchen Platform with Stainless Steel Sink and a glazed wall dado of 2' above counter. R.C.C./Cuddapah shelves and a overhead loft for storage. White glazed tile dado upto 5' height with cromium plated bathroom fittings in Toilets. Three phase power supply with concealed P.V.C. conduits and copper wiring. Adequate number of lifts for each block with complete generator backup for the common facilities in the complex.

A fully equipped Health Club seperate for Ladies & Gents. A clinic/pharmacy for medical emergencies. A creche for children. A department store for all provisions and household requirements. A S.T.D. & I.S.D. telephone booth. A reacreation hall for indoor games. A reading room/library for common use. Common toilets for residents and servents/staff. Landscaped gardens around the buildings. A special Childrens play area with play equipment and cable T.V. connection.
---