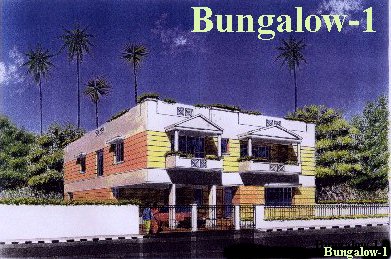 PERSPECTIVE PHOTOGRAPH

Independent bungalows

Sterling Road, 3rd Cross
An independent bungalow with a total built up Area of 3,200 Sq.Ft. is spread over 3000 Sq.Ft. of land. There are 3 bungalows of 3 Bedrooms with a study and a family living. Each bungalow has covered parking for 2 cars. There a 2 Twin Houses of 1800 Sq.Ft. built on 3000 Sq.Ft. of land with 3 bedrooms and a study. Each twin house has one covered car parking and a private garden space. The overall project site and development has been done as per Vastu Shastra. Price is Rs.3750 per Sq.Ft. (excluding Registration T.N.E.B. & MMWSSB charges).
---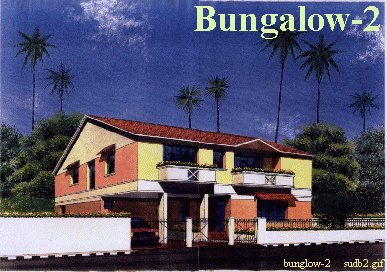 Sterling Road is one of the poshest surroundings in the city of Madras. The site is 1 K.M. from Nungambakkam High Road. The site is 500 m from Loyola College. Transport facilities to all parts of the city are available within a close walking distance from the site. The site is close to a host of hospitals and restraunts and shopping complexes. A host of reputed schools are within a short walking distance from the site. The site is in a very quiet and peaceful area with a lot of trees and very well laidout s urroundings.
R.C.C. framed structure with masonary walls. Cement paint on the walls and Enamel paints for Doors and Windows. Hard core flush doors with decorative beading for main door. Teakwood frames with grills with glazing for Windows. Marble and Ceramic Tile flooring. Polished Granite kitchen Platform with Stainless Steel Sink and a glazed wall dado of 2' above counter. R.C.C./Cuddapah shelves and a overhead loft for storage. White glazed tile dado upto 7' height & one row of designer wall tiles with cromi um plated bathroom fittings in Toilets. Three phase power supply with concealed P.V.C. conduits and copper wiring. Each house will have a cable T.V. connection.
---
Click below to view:-


Topo Plan - Site Plan - Floor Plan Bungalow - Floor Plan Duplex
---