Welcome to


Scope Marketing Pvt Ltd.
Madras/Chennai India

---
We would like to introduce ourselves as a Market Research, Project Consultancy and Management Consultancy organisation that aims at client's growth through excellence in management solutions
---

You are no: to this page...
Last updated on 15-APRIL-1997

---
Many Questions....
Should we invest in a particular industry/product ?
What is the market size for acetaldehyde in India ?
How do I evaluate buying behaviour of automotive chains ?
What should our marketing approach be ?
How do we improve our image ?
Is there someone who can help me set up an industry ?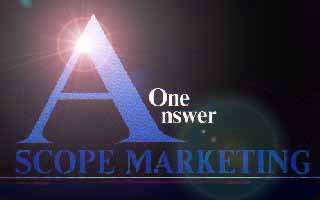 CLIENT'S GROWTH THROUGH EXCELLENCE IN MANAGEMENT SOLUTIONS

THINK BUSINESS GLOBALLY. ACCESS SOLUTIONS LOCALLY.

Make a Strategic Business Decision ....... Contact..... SCOPE ...... Today


---
Scope Marketing Private Limited
# 5, First Floor, First Cross Street, Karpagam Gardens, Adyar,
Chennai (Madras) - 600 020, India.
Phone : 91- 44 - 491 1039 / 91 - 44 - 491 2207.
Fax : 91- 44 - 490 0507.
E-MAIL : scope@md2.vsnl.net.in



Copyright © KSS October 29, 1996