Next Page ¦Home Page ¦Previous Page ¦
12KV METAL CLAD VCB TYPE CRK 12
INTRODUCTION :
CRK 12 with its integral Operating Mechanism SVG 16 is designed for Indoor or Outdoor metal clad executions. The Breakers can be either of the fixed type, or of the withdrawable type. In both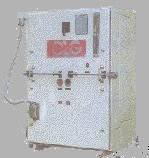 cases, breakers can be part of an extensible Switchgear Panel. Standard execution is for manual spring charging, but at clients option, a motorised charging facility can be provided.
---
COMPLETE SWITCHGEAR PANELS :
OLG supplies complete Switchgear Panels, incorporating the CRK 12 Breaker. Scope of supply will be according to clients actual requirements, but in general, will consist of the basic Breaker in metal enclosure, Busbar arrangement with Bus Support Insulators, Instrument Transformers,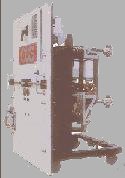 Protection Relays, and Metering. In case of withdrawable units, Automatic Shutter Gear, Withdrawable Main (fixed) and Isolating (moving) Contact ("Flower Contacts"), Arrangement for Truck Withdrawal, L.T. Plug and Socket, and Truck locking, are provided as standard. Interlocks are provided for safe operation of the Breaker. When not in use, the feeder end of the Panel may be grounded, either by an Earth Switch built integrally into the Panel, or by a separate Earth Truck. Both feeder earthing arrangements are optional items, and not included in the standard scope of supply.
For Indoor application, provision is made for terminating power cables. For Outdoor Panels and Kiosks either cable box, or weather proof Roof Entry Bushings are provided, at Clients option.
LOOSE BREAKERS :
To meet the requirements of Switchgear Panel manufacturers, as also modernisation projects for replacing existing older Breakers, with new Vacuum Breakers, without however changing anything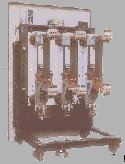 else in the Panel, OLG also supplies the basic VCB module, without Panel.
For Modernisation Projects, the scope of supply would be the basic VCB Module only. For Withdrawable units, OLG can supply the module mounted on a Truck with Wheels, but experience shows that the use of the existing Truck itself eases interchangeability problems. In such projects, the existing Fixed Main and Isolating Contacts, Bus-bars, Instrument Transformers, Protective Relaying, Instrumentation, Shutter Gear, Locking Arrangement, and LT Plug & Socket will be reused, not only to minimise cost, but also to ensure better and easier matching with the old, fixed equipment. For fixed version Panels, the Truck is also omitted from OLG's scope of supply. In each case, OLG can offer their supervision of erection at site, to ensure that their replacement module fits into the existing equipment properly.
FOR PANEL BUILDERS :
To meet the needs of Panel Builders, OLG can supply the basic Breaker, as mentioned in the last paragraph. However, they also go one step further to help Panel Builders, by offering, at the clients option, a "Breaker Chamber" also in addition. This is meant to be built into the main Switchgear Panel, by the Panel Builder. The Breaker Chamber houses the fixed part of the Withdrawable Power Connection, with the necessary Back of the Panel Bushings, the Shutter Gear, Truck Draw-in Gear, and the Locking Arrangement. Such an enlarged scope of supply relieves the Panel Builder of many problems of matching, and lessens considerably his Engineering Design work.
FEATURES :
In case of Withdrawable Units, both the fixed part of the Panel, and the movable Truck, are carefully manufactured, and counter checked against Standard Panel and Truck Master Units at the Factory. This ensures complete interchangeability, proper matching of the Power Plug and Socket, leading to low heating, high life, and considerable flexibility in operation. A well designed, and robustly constructed Automatic Shutter Gear offers total protection against accidental contact with live metal parts.
OPERATING MECHANISM :
The Operating Mechanism offers, besides the usual Manual Close and Emergency Trip facilities, also coils for remote operation, and for operation with Protective Relays. Closing and Tripping Coils operate satisfactorily, in the supply Voltage range of 110% to 70% of nominal. Electrical Operation of these coils is also possible, through front mounted Push Buttons. While the closing spring is manually charged in the standard execution, it is possible to outfit an universal electric drive, as an option. A positively driven auxiliary switch has adequate number of potential free contacts for buyer's use. Mechanically driven Flags are provided for showing the operating mode of the Breaker (On/Off), and the status of the closing springs (i.e. Free/Charged).
TESTS :
CRK 12 has been type tested at CPRI, and the Division of High Voltage Engineering, Anna University, Madras. All routine tests of clause 3 of IS 2516 Part IV, Section 2 (equivalent to IEC 76) are carried out on each breaker. Besides, each breaker undergoes routine check for soundness of execution, by applying at least 200 closing and tripping operations before despatch. This check, which is over and above the specifications of the IS, ensures a quality product, and guarantees performance without any problems when installed.
TECHNICAL DATA :
Applicable Standard              : IS 2516
Voltage                          : 12kV
Max. Current                     : 1250A
Making Current Peak              : 66.5kA
Breaking Current RMS             : 26.3kA
Short Time Current (3 sec.)      : 26.3kA
Basic Impulse Level              : 75kVp
1 Min A.C. Testing level         : 35kV
As design and manufacture of our equipment are subject to constant improvement, the product supplied may differ in certain details from the specifications and illustrations.