Next Page ¦Home Page ¦Previous Page ¦
11 KV TAPCHANGER TYPE ABS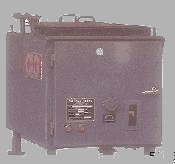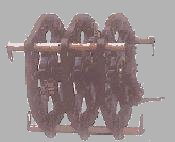 TECHNICAL DESCRIPTION:
ABS III 200 DELTA 12 is an On Load Tapchanger suitable for application at the locations of 11kV, Three phase, Star or Delta connected Transformers. It is a linear gear, requiring a potentiometric tapping arrangement, with a Wander Lead. The Tapchanger has a maximum of 17 positions, so that it can be applied to a winding of 16 taps, to give 17 different voltages. The functions of the Tap Selector and Diverter Switch are combined in a Selector Switch. The Selector Switch and its integrally mounted stored energy type Driving Mechanism, are housed in a sheet steel tank, with a Flange suitable for mounting on a port on the Transformer Tank. Leads can be brought out of the Transformer through a Port Flange mounted, oil tight, Terminal Barrier Board, which is part of the Tapchanger Supply. The Tapchanger must be connected to a conservator, through an Oil Surge Protective Relay. The Oil Surge Protective Relay forms part of Tapchanger supply, but the conservator and Transformer Oil are not in the scope of supply. The Tapchanger must be filled with oil by the Transformer manufacturer.
TECHNICAL DATA:
Rated Voltage                             : 11kV 
Max. System Voltage                       : 12kV
Number of Positions (Max.)                : 17 
Max. Continuous Current                   : 200A.
Number of Phases                          : 3
Max. Operating Step Voltage               : 300V
Max. Operating Voltage over Tapping range : 6000V
Max. Continuous Voltage to ground         : 12000V
Max. Continuous Voltage between phases    : 12000V 
Time per tap change                       : 4-6 secs.
Wt. of Tapchanger without Oil             : 370 kgs.
Wt. of Tapchanger with Oil                : 610 kgs.
Oil Content                               : 230 lts. 
Transition Switching time                 : 20 Milli Secs.
TEST LEVELS:
| | | |
| --- | --- | --- |
| | Power Freq. | Imp. Voltage |
| | for 1 Minute | of 1.2/50 Microsec |
| | (KV RMS) | Wave(KVP) |
| Between Phases | 28 | 75 |
| Between Phases and Earth | 28 | 75 |
| Between Adjacent Contacts | 20 | 50 |
| Across Tapping Range | 25 | 70 |
TESTING:
This Tapchanger has been Type Tested to IS 8468 (equivalent to IEC 214) at CPRI., and at the Division of High Voltage Engineering, Anna University, Madras.
As part of our Quality Assurance Programme, we conduct several tests at our Works, in a routine manner before despatch. The main test, which goes beyond the requirements of IS 8468, is an operation test for 5000 operations, without the contacts energised. During this test, the Motor is run at its normal voltage, and speed, and is switched on and off for each tap change. This is a very rigorous, and very practical test from the point of view of the user. Tanks are Leak Tested at an air Pressure of 1Kg/cm2. Tanks are Sandblasted before painting.
We conduct the following Routine tests:
(1) Megger.
(2) Contact Resistance.
(3) Timing of Contacts.
(4) Aux. Circuit 2kV Withstand.
As the design and manufacture of our equipment are subject to constant improvement, the product supplied may differ in certain details from the specifications and illustrations.