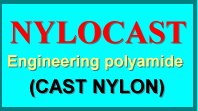 NYLOCAST is the result of a new technology in plastics, Which makes available to you any shape or size. No longer are you restricted to the smaller size made by extrusion or injection moulding methods. Any type of heavy component is now within your reach.

The casting process upgrades the Nylon 66 but with lower moisture absorbtion and improved strength.

It enables production of stress-free stock shapes of almost unlimted size.