Good News For Bad Handwriters
 Arul Raj 
A HANDWRITING EXPERT & A RESEARCHER
Who Can Make The Most 
Illegible Handwriting Into a Beauty.
In English & allied languages like French, German etc...
The INNOVATIVE Method used is phsychological and scientific with binominal letter combination in teaching free-hand one stroke writing.
Do you have a handwriting that looks like the cat's scrawl?
---
Sample Of A Student's Handwriting Before And Immediately After The Course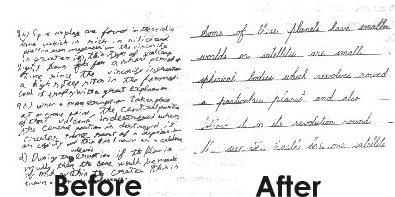 ---
Its not too late to get it rectified. If the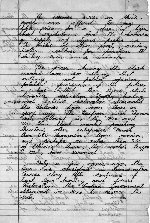 success rate of handwriting expert Arul Raj is any indicator to go by, a five day training session with him will help you acquire a fine hand. His approach is both scientific and psycological in nature. A typical two hour training session starts with a briefing on what is writing, its history, how to use it and like. First the students are taught to draw lines, oval and round shapes - in a single stroke - to get the flow of writing. The formation of letters and the direction (the slant) of writing is taught in the next session. He emphasises on the need to be able to write the letters in one stroke except the letters "t" and "i", which need more than one stroke.
In the third session the students are taught to write BI-NOMINAL letter combinations and in the fourth and fifth session, the students write with normal speed, learn neatness, spacing, capital letters and numbers. Their everyday practise increases writing speed. This method is new to the world.
According to Arul Raj, the reason for bad handwriting is not hereditary, but it is due to lack of proper teaching at the understanding age of students. Students could learn handwriting like any other subject through this method. The course has its own methodology.
---
PUBLICITY
THE TIMES OF INDIA (BOMBAY) - April 2, 1990: HANDY METHOD - A Calligraphist has evolved a new mothod of assisting those with bad handwriting to improve their style in 10 hours spread over 5 days.......
SUNDAY - MID DAY (BOMBAY) -SEPTEMBER 6, 1992:" PEN FRIEND" - You have got to hand it to ARUL RAJ - The man who has got the WRITE stuff. For him it's just another art.
TIMES OF INDIA - Ahmedabad, INDIA-November 13, 1992:" Handwriting does it." - Mr. Raj lays stress on the shape of Letters and their joining - quoting Mahatma Gandhi who said " Bad handwriting is a sign of imperfect education" in his autobiography, Raj puts up a solid defence on behalf of the Mahatma whose handwriting has come in for little praise if not bitter criticism.
"THE INDEPENDENT" - BOMBAY- 1st December 1992:" For the Love of a GOOD hand writing."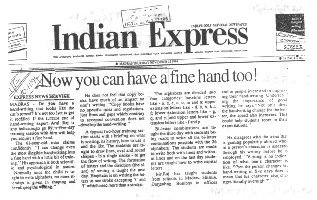 Invitations will be accepted from anywere, So far a few thousands of students have been trained through this method sucessfully and he has many articles about him in leading INDIAN NEWS PAPERS & Magazines. Enquire for classes in Madras / Chennai.
---
Attention Publishers: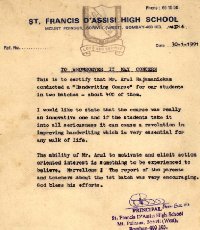 Any International publisher interested in publishing my fully handwritten book on this method of learning can contact me.
This book is both like an instructor cum exercise book. The book is capable of teaching anyone very easily. It has rules like the rules of games. It is fun for students to learn and change their bad hand themselves and change the bad handwriting problem for ever.
---
Interested ?
Contact:
Arul Raj
No 2, Nellikuppam Main Road
Opp: K.N. Women's College
Semmandalam
Cuddalore - 607 001
INDIA
Phone +91-04142-21493
or
Madras / Chennai - INDIA Fax: +91-44-5322065
Email me at

arajindia@hotmail.com for more information
http://www.tissd.com/arul.htm
You are no: to this page...
Homepage Design and hosting by tissd